Savory Cumin Lamb Burger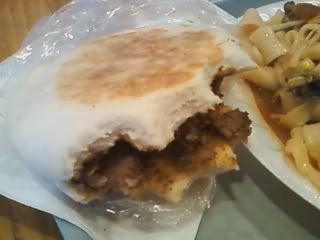 The cumin flavor was pretty strong. The meat was nice and tender. I loved the dough— my only complaint is that the dough seemed a bit stale. Nevertheless, it was yummy. I could've eaten two of these and been full. ($2.50)
Mount Qi Vegetables on Hand Pulled Noodles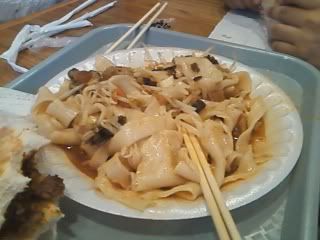 These were delicious as well! However, if you can't handle spicy foods, DO NOT GET IT IN SPICY! A. and I both have a fairly good tolerance for spicy stuff, and it got really tough by the end. I wasn't sure what all the veggies (carrots, potatoes, mushrooms, lots of other random stuff) were, to be honest, but the broth was good, and I liked the noodles. ($6.00) 
I will definitely be back there! It's a nice cheap, delicious meal. The two of us ate for only $10.50, and we were pretty full. 
Xi'an Famous Foods*
81 St. Mark's Place (at 1st Ave)
New York, NY 1003 
http://www.xianfoods.com 
*There are 2 locations in Flushing and one more in Manhattan.